I am trying so hard to learn this blogging thing! I want to share our days with you, to be transparent about the daily ebb and flow of our lives, and yet I find myself holding back and looking for just the right thing share.
My daughter, who is a major adoption blog stalker, tells me I need more posts.  "Just write, Mom,"  she prompts.
So here I go, sweet daughter of mine.
Our family is doing a lot of growing this summer.  We are growing spiritually as we are making some rather big decisions that will affect all of us in significant ways.  We are learning so much about faith and God's call for our lives, and what it really means to serve Him.  We're learning to believe with a belief that is bigger than it was before.  Very soon I will share with you all the details of the changes we are making, but I have a few things to take care of before I can do that.
In the meantime I thought I would share what we're working on right now.
Chores.
We are planning and organizing a rather detailed chore list and schedule that will free our time and allow us to accomplish more in our days.
If you have never read, Managers of Your Chores, by Steve and Teri Maxwell, I highly recommend it.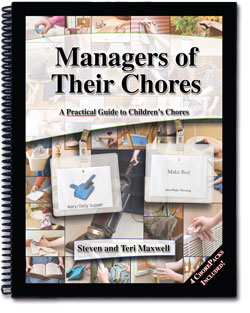 It is available from
Titus2
.com.
Is is a lot of work for my organizationally challenged self, but it will be so freeing once it is all implemented.  We used this system before for a while and the amount we easily accomplished in our days was remarkable.  Why did we let it go?  Well, that's a long story, and one for another day I'm afraid. I will share it though because it is so relevant to all the changes we are making now.
We are also praying hard about whether to shut off our television again.  We did not have TV for a few years. I did not miss it at all. So what holds us back?  I don't know.  I like some of the preschool shows for our littles, but I know we could do videos.  I know our older boys will be unhappy, and one in particular really struggles with change, and yet I am concerned that it is not serving the children well.
Hmmm.
Please share your wisdom!  I know you all have much wisdom because I read your blogs!