I am a writer. When I am upset, I write. When my mind needs clarity, I write. When my mind refuses to rest and longs for expression, I write.  So bare with me, and feel free to share your thoughts as well.
For those of you who read my post, Angry, this is a semblance of a follow up to that post along with a few reflections on rearing a big family in a little family world.   If you haven't read that post, you might want to read it before you read this one.
Last night we met with the the principal of the Christian middle school where our daughter attends.  He is a wonderful godly man and a dear personal friend.  His love for our children and his spiritual guidance and care has been a blessing in our children's lives.  We are thankful for his Christ-like walk and commitment to be true to his convictions as he shepherds the school.
Apparently, our daughter did not make National Junior Honor Society for a perceived opinion that she was lacking in the area of service and leadership.  Why was she lacking?  The main reason that was presented to us was her lack of participation in our church youth group. 
That sends my mind reeling.   Is youth group participation a prerequisite for a godly walk?  Is a child always better off when they participate in church youth group activities?  Is the Bible clear that teenagers must be active in youth activities in order to be leaders and to have opportunities to serve?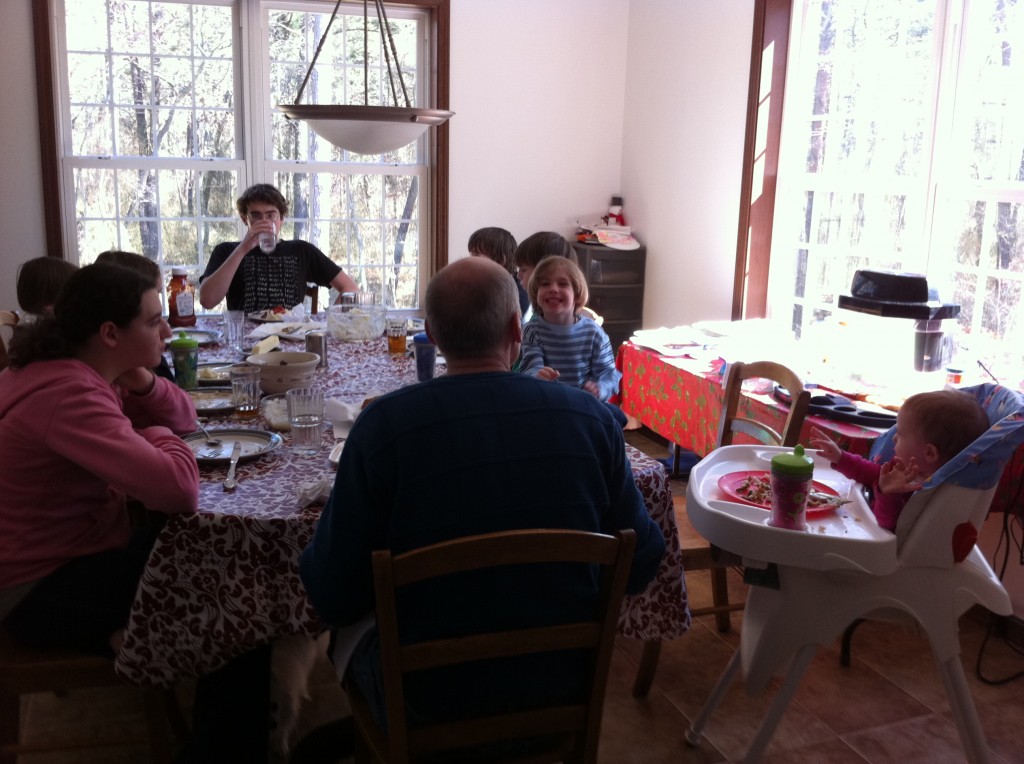 I think not.  While I am not against youth groups at all, I am against the assumption that if a child does not participate, they are somehow woefully lacking.  Youth groups provide a service to Christian families and are an outreach to the un-churched.  They provide enriching activities for children and offer an opportunity for the gospel to be preached.  Youth groups provide ammusement, and in some cases healthy role models.  They can be a safe haven for troubled children. And they can be service oriented as well which can provide a fertile soil in which teenagers can have an opportunity to serve.  They can be an asset to parents. 
They can be, but are they a must? 
As I have articulated before, we are parenting a large family.  Sometimes parents of large families have difficult decisions to make.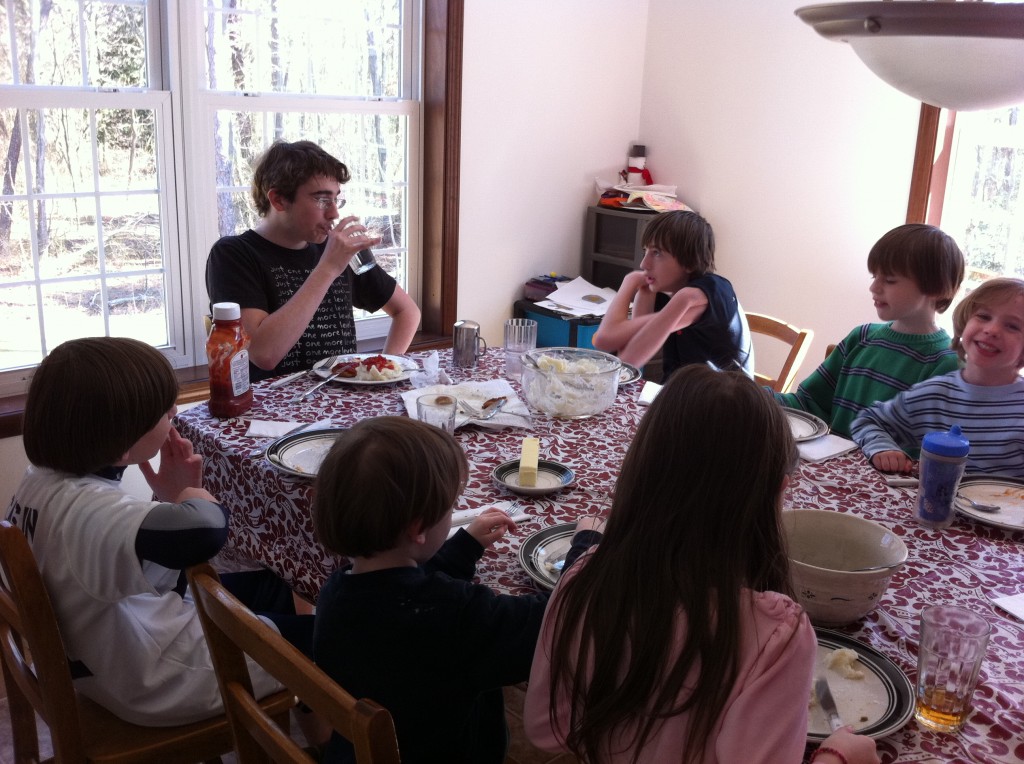 We have chosen not to have our children participate in our church youth group.  We have chosen to send our children to Christian school and to have family devotions.  These choices come with a significant cost.  A Christian school education is expensive.  We are not a poor family.  We have a lovely home, my husband has an excellent salary, I have been afforded the incredible blessing of being a stay at home mom, and we are blessed.  
Having said that, we have had to make choices.
Big families are astronomically expensive.  Everything we do is expensive.   Our grocery bill alone is staggering.  Every time we drive our van, we are burning funds at an exorbitant rate.  Every time we step out of our door, we spend more than the average family does. Participating in a church youth group is expensive for a large family.  I am not complaining.  We chose to allow God to determine the size of our family.  I have no regrets.  But the fact remains that large families are not as portable as small ones, and they are more expensive.  In order for us to be able to participate in all of the church activities, we would definitely have to home school.
My husband gets home from work at seven thirty every evening after a three hour round trip commute. Our evenings are short.  In order for us to be at Church on Wednesday nights,  I would have to leave my husband and go alone.
We have chosen to have family devotions every evening at eight.  There are occasions when we miss, but they are rare.  We have tried to be rigid about ending our days as a family reading the Word of God.  The benefits of that choice for our family have been enormous.  
When a family deliberately sets aside the busyness of their days and pauses to reflect on God's Word together, wonderful things happen.  Children learn a reason to behave.  They learn to be considerate.  They learn to listen.  They learn to express themselves in a multi-age group.  They learn to be respectful of each other.  They learn to let daily quarrels go in exchange for family unity.  They learn they are a part of something bigger than themselves.  They learn to appreciate their need for God.  But even this wonderful choice comes at a cost. 
A family can't run around all the time, and still have time to be home together, to read the word of God together, to learn to get along with and forgive each other.  Family relationships can not completely develop when our lives are too hurried and children are constantly being whisked off to activity after activity apart from their families, no matter how good those activities are.  Sometimes families have to give up what is good in exchange for something better.
It is popular in our culture to lump age groups together, and to assume that more time with people of the same age group is growth producing.  Here is where I strongly disagree.  Constantly lumping children with children of the same age does not inspire growth.  It creates kids with an attitude that life revolves around them, and that families must constantly sacrifice for their ability to be amused.  
God created the perfect environment for raising children when He created the family.  For families to constantly fill their lives with things that draw the family apart is detrimental to our children's development.  It does not produce leaders.  It produces selfish children who do not know how to give or to put another before themselves.   
Perhaps large families are limiting in some ways.  Sometimes less is better.
And sometimes, people from smaller families completely miss what we're doing here.  And that's really okay.  No paper or human recognition can take away the blessing of a daughter who is learning to love, to give and to lead in her large family.