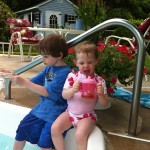 As you can see, I have been working on a new theme.  I really liked the other one with all of it's feminine touches and petite floral vines swirling about, but it was an old theme and was missing so many of the newer features that are standard now.
The pictures didn't align properly, and the text was too small for my liking, so I'll try this one for a while. Hopefully, I'll get better at the picture taking, and perhaps even get a new camera.  🙂
In the mean time, I'll leave graphic design and photography behind and focus on what I enjoy most, writing!
Thanks for bearing with me as I work on getting all of the text colors changed.
Blessings!