It had been a long day.
The children had not been feeling well. Our teens weren't in very good moods.
Our boys seemed to need so much more to keep them busy than I had to offer even on a good day, and home school really could have been called anything but school; the word calamity comes to mind.
I'd been busy sewing, and mothering, and everything else I do in a day, with little time for renewal.  A sea of weariness engulfed me.
Bed time had finally arrived.
I got into bed and opened up my email on my ipad and there it was – another letter from Bilu.
This one didn't have any pictures. It wasn't in color. It was merely written in black pen.
I had no idea what it said, and yet I stared at it for over an hour completely mesmerized by this precious gift from my daughter in a faraway land.
I thanked God for the privilege of being a part of this miracle He is working.  I praised Him for using me to love His sweet girl who has suffered so much abandonment in her young life, and I cried for all the years she waited, for all the years I couldn't hold her, for all the tears she cried without her mama and baba to dry them.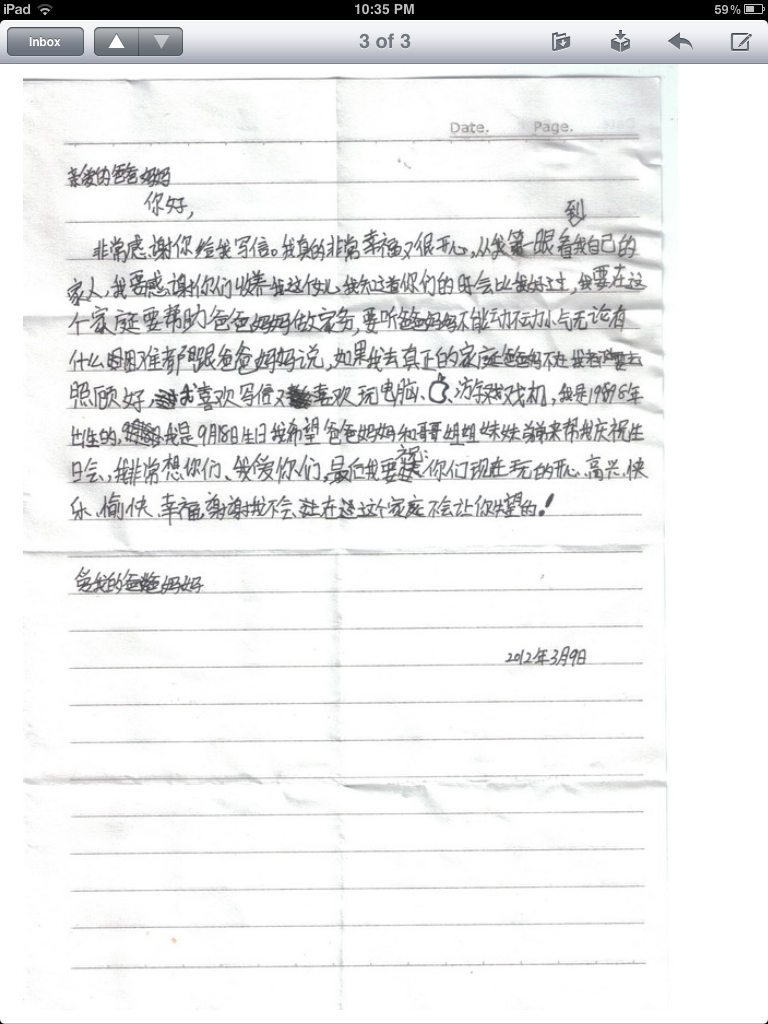 It wasn't until much later on Wednesday that the translation came in.
Dear Mom and Dad,
Hello, thank you so much for writing me. I am really very fortunate and happy. From the first time I saw my family I wanted to thank you for adopting me. I know your lives are better than mine. I want to help dad and mom with housework and listen to dad and mom without getting upset. No matter what challenge I have I will talk to dad and mom. If I go to a real family and the parents aren't there I will still take good care of the home. I like to write letters, play on the computer, and play video games. I was born in 1998 and my birthday is September 18. I hope dad, mom, and my brother and sisters can come help me celebrate my birthday. I miss you very much. I love you. Lastly, I want you all to have a good time and be happy. Thank you. I will not be a disappointment to my family!
I love my dad and mom.
3/9/2012
Dearest Bilu,
You are our daughter.  We love you. You don't have earn your love from us. You don't have to work to earn our love.  It just is, just as God's love for us is not dependant on anything we do.  Our love for you doesn't depend on anything you can do, or how easy or how difficult your transition into our family is.
We just love you and want to spend our lives loving you.
As far as your birthday is concerned, you'd better believe we and all of your brothers and sisters will celebrate with you this year and every year.  What an incredibly special birthday this will be, for we will not only be celebrating your birthday, but the day our daughter came home.
We love you precious one…