While we were in China, Evangeline was quite the shopper. She found something she wanted at every store, and her new Mama and Baba were more than happy to oblige her. Whether it was a toy or an article of clothing, there was one thing we could be sure of: whatever she chose was always very girly and pink.
One of the times we were at Jusco in Guangzhou, I was in another section and Victoria came and found me. She said, "Mom, you need to come. Daddy needs your help. Evangeline has her eye on a very frilly white dress, and I think Daddy's about to give in."
Well, by the time I arrived at the scene, there was no chance we were leaving that dress in the store.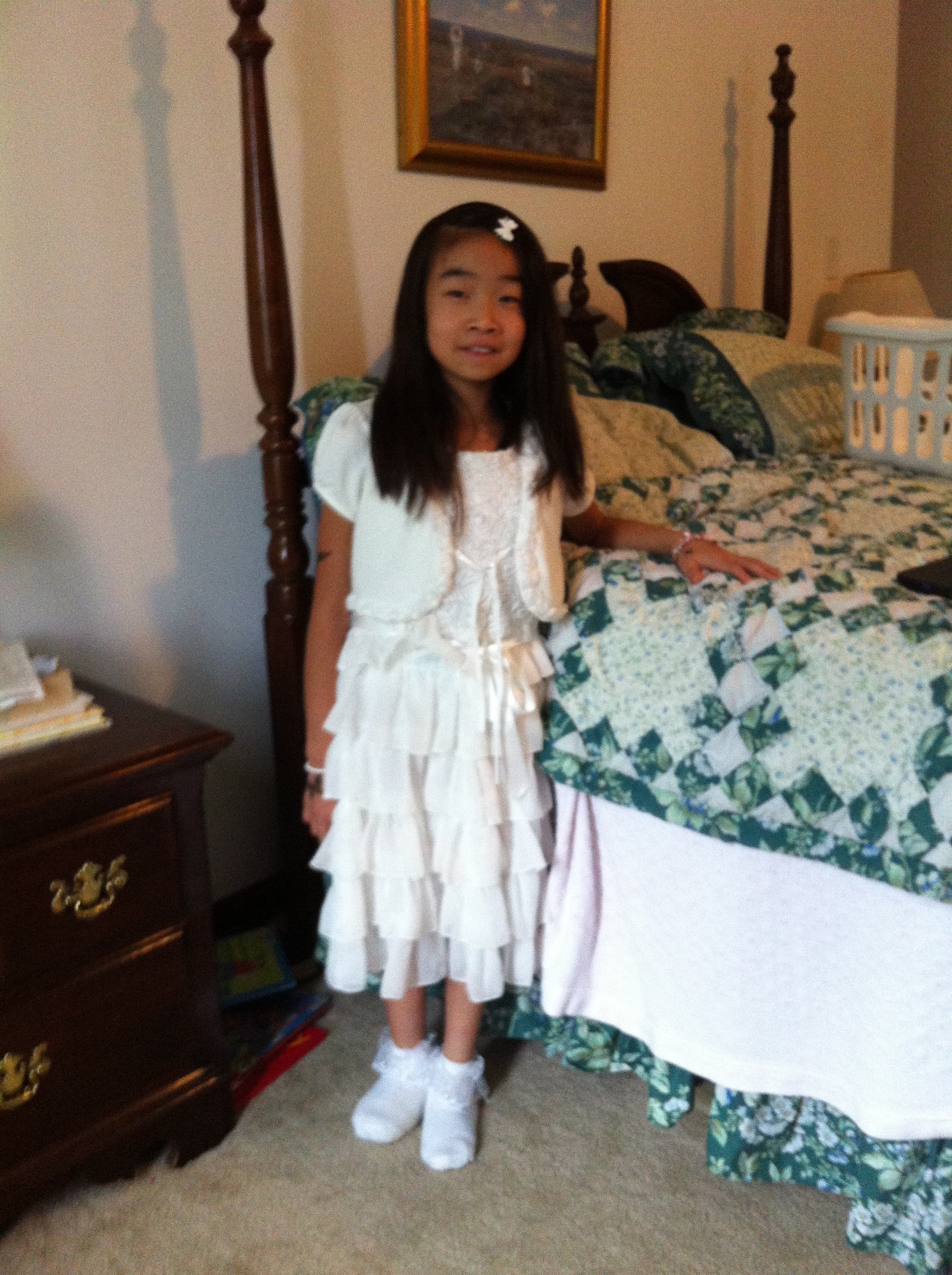 The problem was, it was so fancy that it never seemed like the right time to wear it.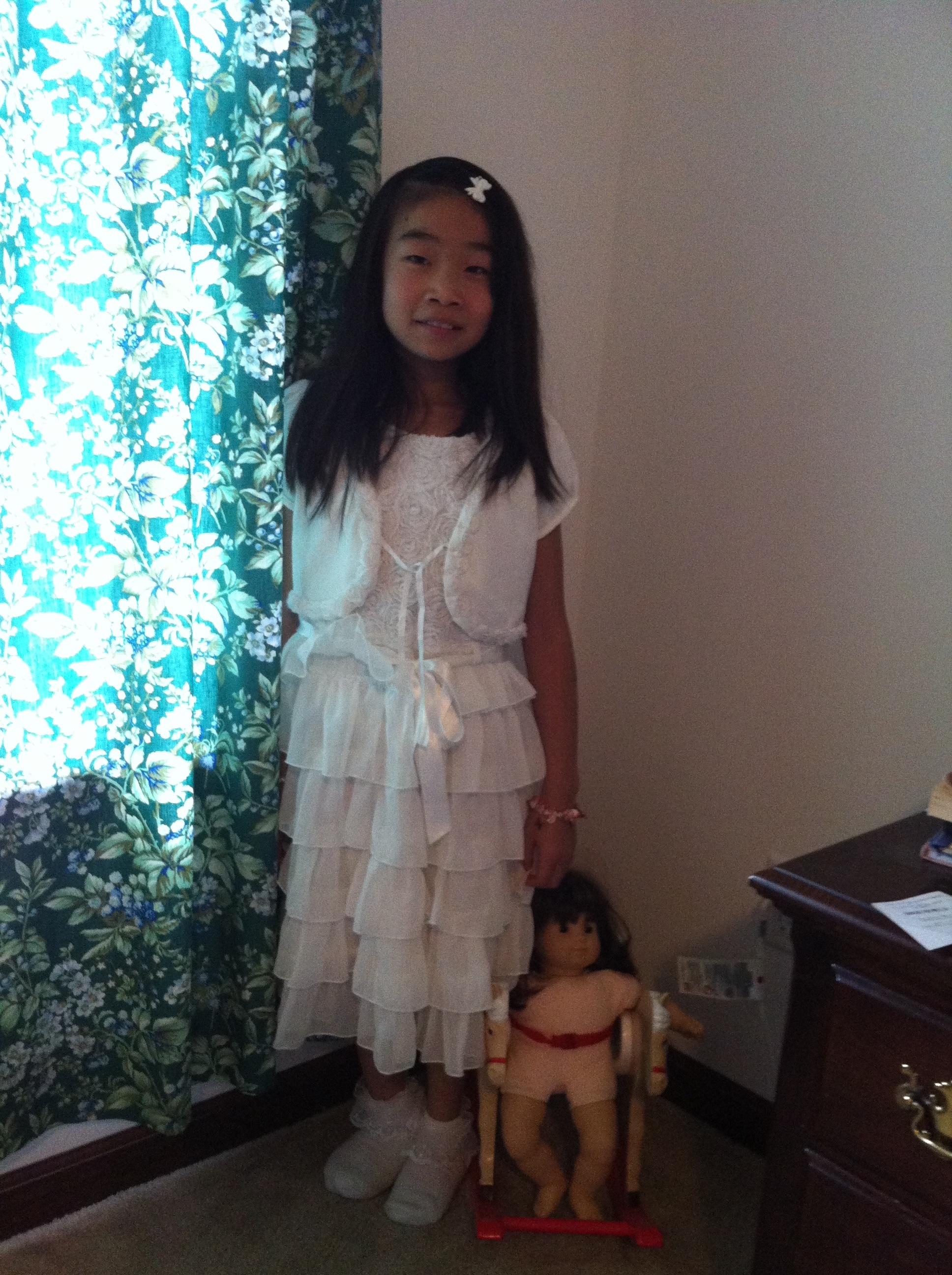 She has asked me almost every day if she could wear that dress.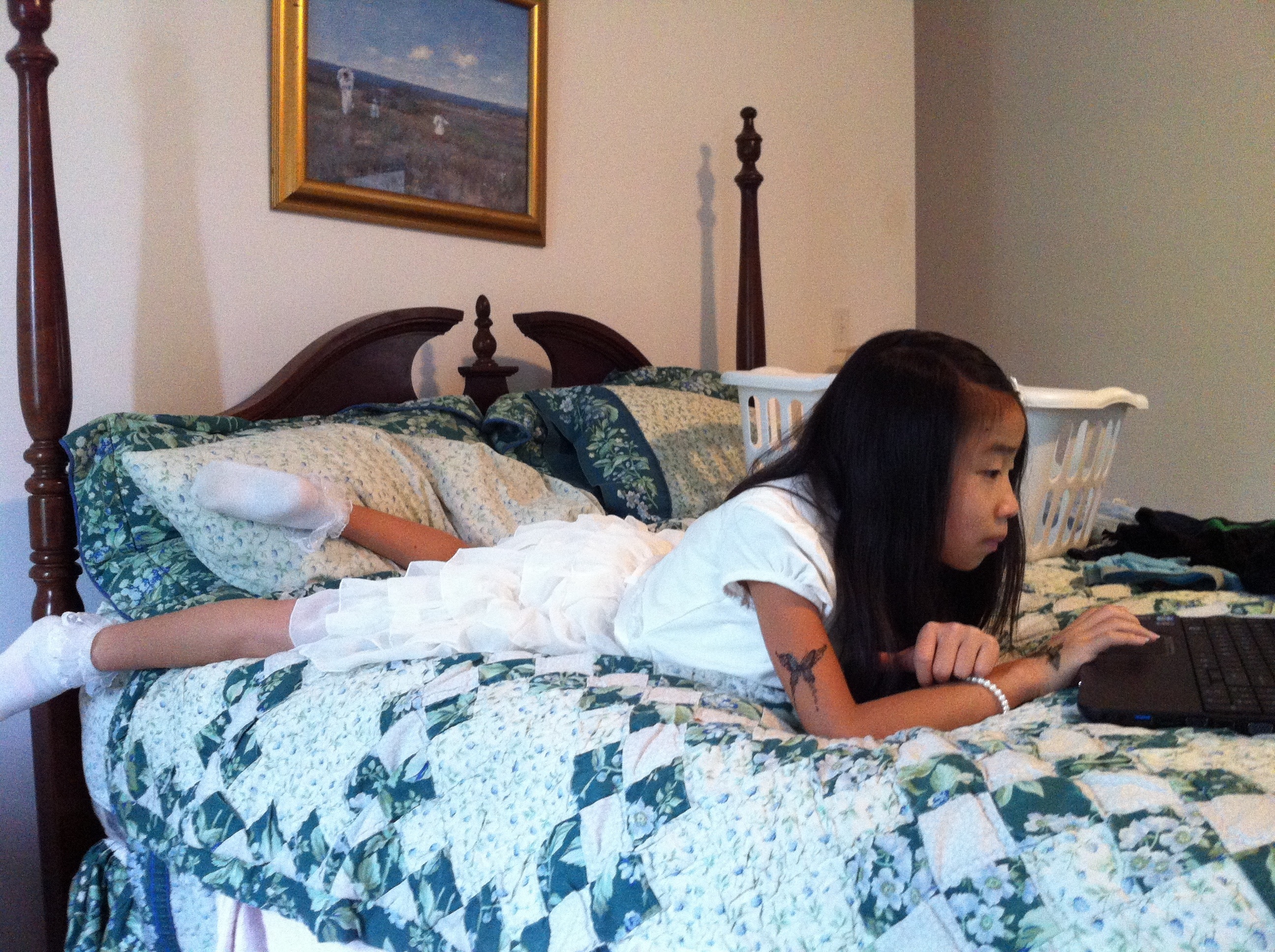 I could just not tell her no another day. So today, she wore the dress.
She looked so pretty, I just had to take her picture and put it on my blog. 🙂
*************
Please pray for our precious Eliza. We have had a bit of a rough start. She is so sweet, and wants so desperately to be loved.
I want so desperately to love her.
And yet, we haven't gotten it right yet.
I think I have been working too hard. We've had three doctor appointments in four days, and two sets of X-rays for Evangeline and our oldest son, Andrew. Mark went back to work on Monday, and while I know he had to go, I think that was a mistake. When we've been home, I've been working, preparing meals, folding clothes, bathing children, etc. And sweet Eliza has waited.
I have tried to include her, to keep her close, but she pulls away. She prefers to watch a movie or play a game on one of the children's iPods, than to interact with me.
And in my busyness, I fear she has felt alone, alone in her new family.
Today she hit one of our little ones, and I had to tell her no and keep her close, but our relationship is so new and so fragile that she has pulled away even more.
I'm not sure why bonding with Eliza has been tough, and bonding with Evangeline so easy. I only know that I have to show her how much I love her. So, for the next couple weeks we have a new plan. I have discussed it with the kids so we'll all be ready.
We are going to turn off ALL the video games, the hand held devices, and the television. We are going to eat easy things, and have fun. I'm going to try to stop working, and just spend time playing, simple board games, play dough, bead necklaces, and whatever else we can think of.
There's a window in the early days when the newly adopted child's heart is so ripe for bonding. The window is wide open now.
Please pray that our sweet girl will come to feel our love, and to know deep within her heart that she is not alone anymore.