I've been told a thousand times that bonding is a process, but somehow yesterday it really sunk into the nooks and crannies of my brain. I think I finally gave myself some grace. I finally accepted the fact there will be good days and bad days, good moments and bad.
There will be moments I do everything right, and moments I don't.
There will be moments when the wonderful feelings overwhelm me and I am in love with our new life, and there will be moments when the difficulties overwhelm me and the problems weigh so heavily that I can only lay them at the feet of my Heavenly Father, just like I did before we brought the girls home.
Relationships take time. They ebb and flow. As we have trusted God for our family size, I've come to see that relationships with our biological children require work too. Sometimes it's easy, and the feel good feelings consume me, and sometimes I must pray for wisdom and compassion. I must look deeper for understanding, and to God for wisdom and grace to love unconditionally.
And it's okay.
Friday was a difficult day with the girls. They were angry with me for not allowing them time on the computer. I typed in the translator, "There will be time for that later. Right now I want to get to know you."
That was clearly not what they had in mind.
But yesterday was a good day.
Eliza really showed improvement. She smiled at me in the morning, interacted with her brothers and sisters, and just seemed so much more comfortable here.
We decided to take the girls to Walmart with us in the afternoon. Eliza just grinned through the entire store. She helped us look for things and pointed out things that caught her interest.
On the way home we had to stop at the grocery store, and just a few of the kids ran in with Mark. Eliza was one of them. She was so happy and animated that she actually skipped into the store beside her father. In the evening, our little Pomeranians got out of their little dog walk, and she went outside with Mark and helped Mark get the dogs back in.
I had an upset stomach last night, and had to go upstairs and lie down before all the kids were in bed. She came in to look for me. She came in to look for me! I motioned to her that my stomach was upset, and she went downstairs and told Mark that I was sick.
A little while later, she came in carrying the book of Bible stories I always read to the children before they go to bed. Oh my goodness! She's been paying attention to what I've been doing behind those blank eyes!
I told her Daddy would read the book tonight, and she shook her head to indicate that was okay.
I know this may all seem so simplistic and uneventful, but to me it is really remarkable and shows great progress.
Evangeline has pulled away from me a little. She still seems happy, and is interacting with the other children, but seems to be opening up to Mark a bit more than she had before. I feel like these are good signs that she is adjusting and feeling more comfortable with me.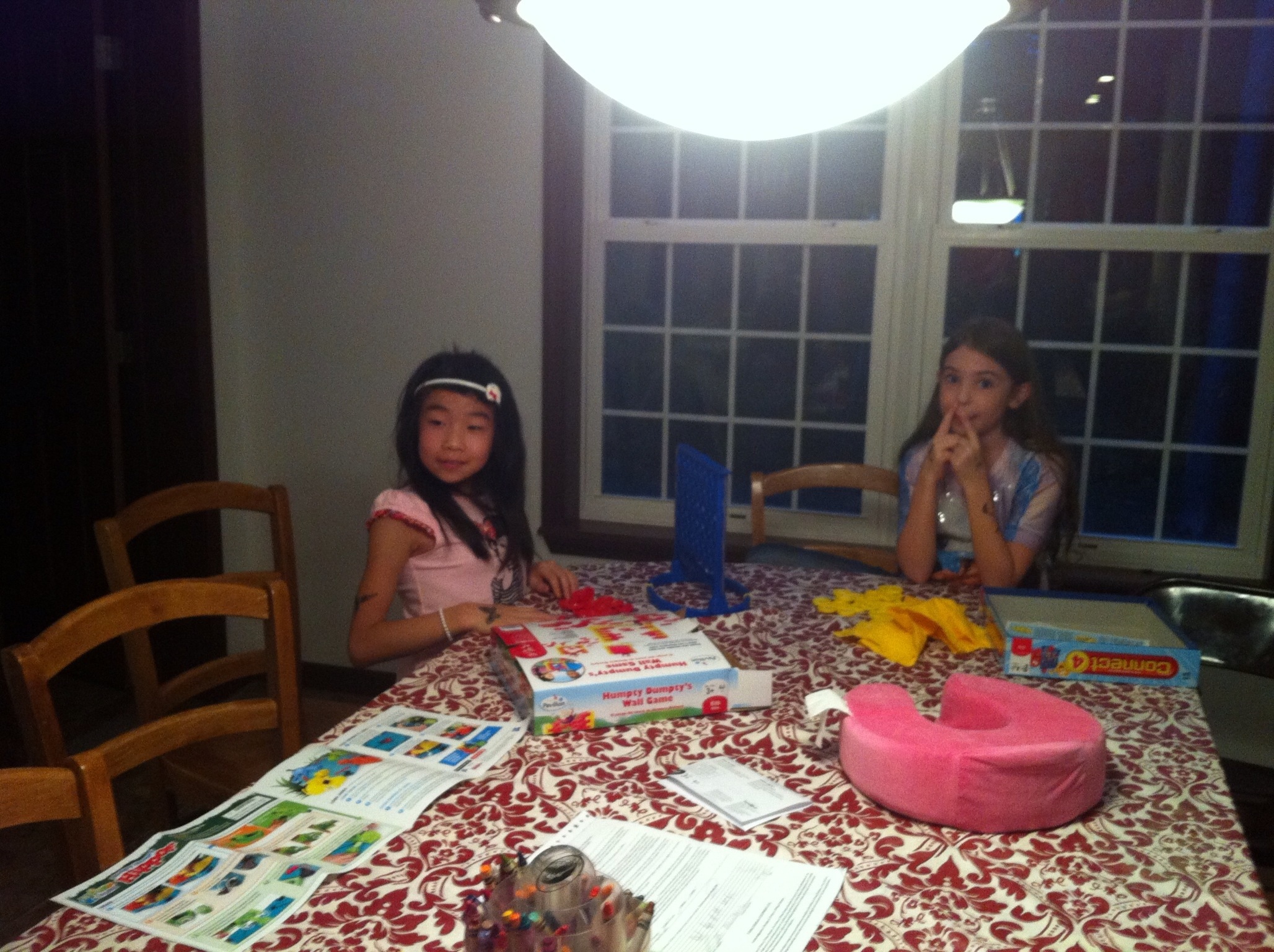 With each new experience we share, we are building a history together.
We have six sons and five daughters. We are all in varying stages of development and connectedness. We are growing and fluid and always changing.
We're moving forward, together.
We are a family!
…and so incredibly blessed!
Blessings All!