Tonight marks ten weeks since we have had the girls, and eight and a half weeks since we have come home.
Tonight and every night, I am overwhelmed with thankfulness for what God has done in our lives and in our daughter's lives.
We have been so blessed to live this miracle. This story, our story, Eliza and Evangeline's story, is God's story. He has written every word.
Three years ago, He planted a seed in our hearts that grew.
He made it grow.
He created a desire in our hearts for Eliza and Evangeline.
We trusted Him, and stepped out completely in faith to meet their needs.
And He provided every penny.
He brought the girls home to us.
Here we are. The girls have been with us for a mere ten weeks and are so intricately knitted into the fibers of our family that I am daily more and more in awe of our Heavenly Father. I can't even imagine our lives without the girls.
They have spent their young lives in institutions without the love of a mother and father, without proper nourishment, and without adequate schooling. They have left the only home they ever knew, their friends, their nannies, their country, flown to the the states with a mom and dad they didn't know and who spoke a completely foreign language, and still they are doing fantastic.
They are just thriving in every way.
Eliza has made incredible progress. She really turned a corner a week or so ago, and I am just daily amazed. I have a connection with her. I am getting to know her. I feel like her mother.
She sits next to me on my bed at night as the busyness of our home winds down. She talks to me and uses the translator. She is learning English incredibly quickly.
And I must share this precious story with you.
Eliza asked Mark on the weekend why we give gifts at Christmas. Mark answered, "because Christmas is Jesus' birthday."
"Who is Jesus?," Eliza typed in the translator.
Still feeling confident, Mark told her that, "Jesus is God's Son."
Then came the clincher.
"Who is God?"
Mark looked at me, and somehow words seemed inadequate to describe God to our newest daughter.
Mark typed in the translator, "He is the Creator. He created you and the earth, the sun and the stars. He created the universe."
And then with an innocence and clarity that took our breath away, Eliza typed in the translator, "Does every nation know it?"
Does every nation know it?
Oh no, sweet Eliza, every nation does not know it, but they will.
They will.
Philippians 2:10-11

So that at the name of Jesus every knee should bow, in heaven and on earth and under the earth, and every tongue confess that Jesus Christ is Lord, to the glory of God the Father.
We thank God for her questions and her heart and trust that God will guide us as we point our children to Him.
And here is a picture of precious Evangeline going into her first ballet class.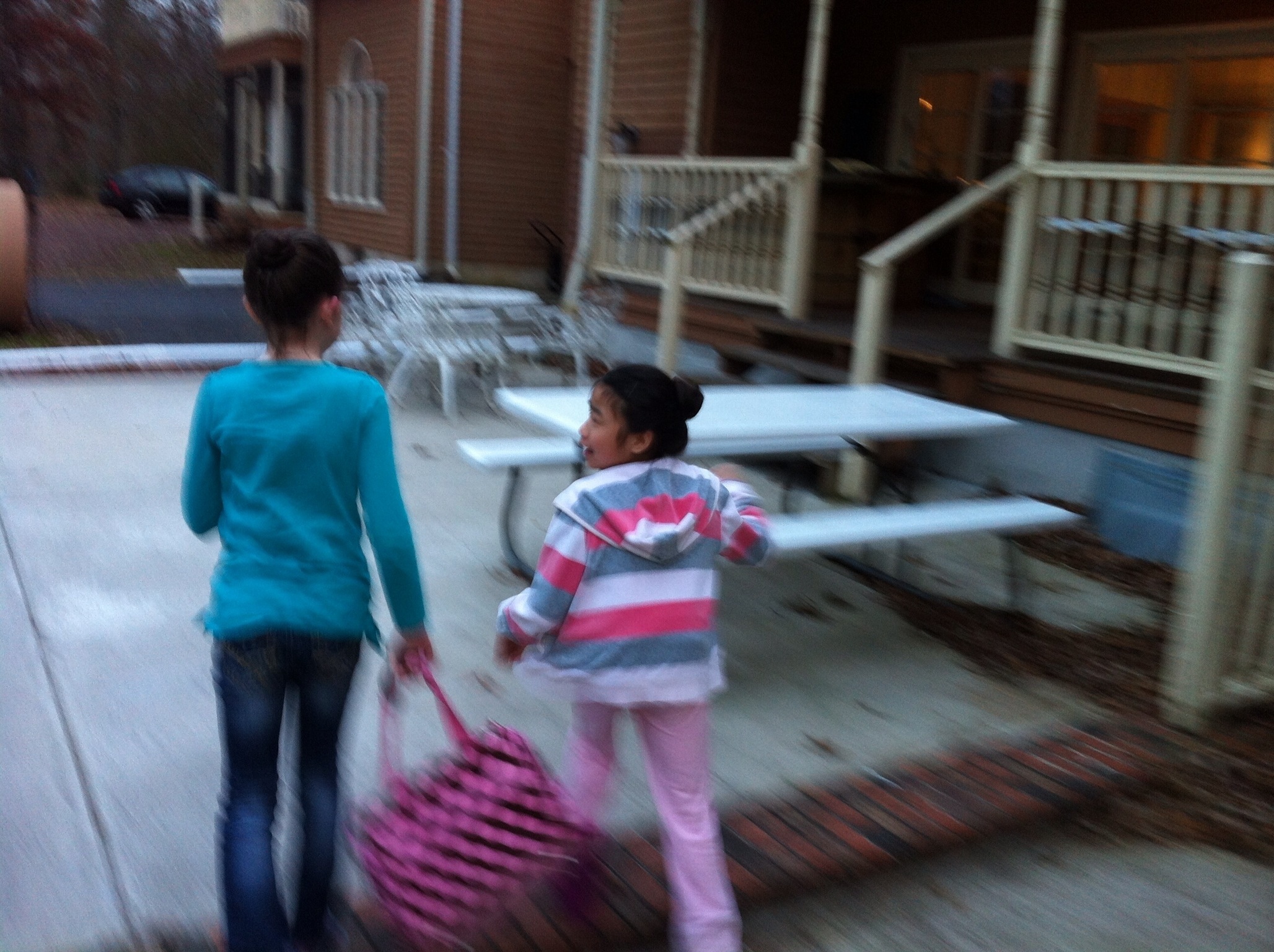 Tomorrow we will build more memories together as we give thanks to our Heavenly Father who has blessed us, "exceedingly, abundantly beyond all that we could ask or imagine." (Eph. 3:20)
Tomorrow we will celebrate our very first Thanksgiving with our precious daughters.
But tonight, I pause to reflect on God's goodness to me.
I know that all my days leading up to Eliza and Evangeline were to prepare me to love and mother and lead to Christ our precious Chinese daughters, who grew under the same sun and slept under the same moon on the other side of the world from me. I know that God planned their every step and collected every tear they cried, and knew all along that He was bringing them home…to me.
Before the creation of the world, He chose me to be their mother, and I am so incredibly thankful.
Happy Thanksgiving!