I just received word that Alivia's family has plans to travel on July 14th. In order for them to be able to travel on the 14th, they still need to earn $8,000!
Here is a link to an auction the family is having on their site. Stop by and ENTER to win!
And don't forget to order shoes this month! Fifty percent of the proceeds will be given to Alivia's family to help bring her home.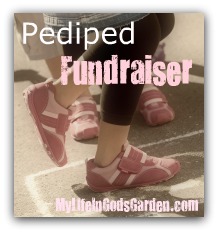 <a href="http://mylifeingodsgarden.com/?page_id=360″ target="_blank"><img src="http://mylifeingodsgarden.com/wp-content/uploads/2011/06/PedipedFundraiserButton.jpg" alt="My Life In God's Garden" width="218″ height="232″ /></a>